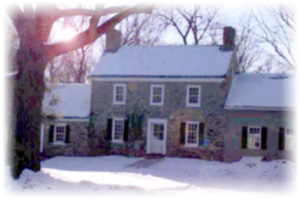 On September 18, 1761, Thomas Morgan presented a petition to the Justices holding Court of Quarter Sessions in Newtown:
"The petition of Thomas Morgan of Middletown Township humbly sheweth that the said Morgan hath lately erected a grist mill on the plantation where he dwells which being a publick advantage prays a publick road to the same may be laid out from the Road that leads from Newtown to Yardley's Ferry by said mill and thence into the road which leads from the aforesaid Ferry to the said Four Lanes End. I beg the Court will be pleased to appoint men to view the premises and lay out a publick road where it may least disadvantage to the neighboring land thru which it must run. 'Thomas Morgan"
At the December, 1761, session the Court directed the premises to be inspected and a road laid out. The survey was returned March 12, 1762. This road to Morgan's Mill became what is known today as Lower Silver Lake Road. It was realigned a number of times during its history, most recently in 1.995.
Thomas Morgan was a major presence in the Newtown area in the mid 181h century. A wealthy man considering his land acquisitions, he purchased 66 acres along the Newtown?Middletown line bordering Core Creek in 1743, and the same year 40 acres in Middletown Township adjoining his 66 acres. This land was used as the site of his homestead plantation. He also purchased 111 acres in Lower Makefield Township from John Cawley in 1751. It is unlikely that Morgan improved his land in Lower Makefield, and he sold it to Lamb Torbert in 1762.
Thomas Morgan built his dwelling house just north of the Middletown line in Newtown Township soon after his purchase of the land in 1743, and a portion of this ancient structure stands today (10 Silver Lake Road, hereafter called the Thomas Morgan House). There is no evidence that Morgan lived in Middletown except for the reference in the road petition? In all recorded deeds he is mentioned as a Newtown Township resident. In 1761 he built a separate house (521 Old Swift Road) and the aforementioned mill for his son Thomas Morgan, Jr., just below the Middletown line. It appeals that the ownership of this important property in Middletown Township with about 25 acres was transferred by Thomas Morgan, Sr., to his son, although no deed was found for this transaction. Thomas Morgan, Sr., was living in Newtown Township just over the Township line and north of the mill property, and he was never listed as a miller. The evaluation of his estate at the time of his death in 1775 showed total assets of 643 pounds, a considerable sum for that time. His inventory lists horses, cows, hogs, wheat, rye, wheat in the ground, and many agricultural implements such as harrows, dung forks, iron hopples, swingle trees, shovels, spades, maul, wedges, drawing knife, weavers loom, and hive and swarm of bees. Clearly Morgan was a farmer. On July 23, 1772, Thomas Morgan placed an advertisement in the Pennsylvania Gazette:
"Run away, the 13th of this instant July, from the subscriber, near Newtown, Bucks County, an Irish servant girl , named Judy Fagan, between 15 and 16 years old, of a dark completion, has black hair and grey eyes; had on when she went away, a long old green worsted gown, brown skirt and black bonnet, no shoes nor stockings. Whoever takes up and secures said girl, so that her master may have her again, shall have twenty shillings reward and reasonable charges paid by Thomas Morgan."
It appears Judith Fagan was returned to Thomas Morgan. Unfortunately he had no better luck in keeping her since she ran away a second time, on June 3, 1773, as indicated by another advertisement also placed in the Pennsylvania Gazette, this time on June 16, 1773: "Run away, on the third of this instant, June, from Thomas Morgan of Newtown, in the County of Bucks, a servant girl named Judith Fagan, a short thick?set girl, with black hair, which she commonly wears curled, she is dark complexioned has a bare place on the top of her head about as large as a dollar; had on, and took with her, two short gowns and petticoats, one of a black and blue striped, gown and petticoat of the same; the other short gown and petticoat striped black, blue, red and white, but the red much faded. Who ever takes up said servant and secures her in any goal, so as her master may have her again, shall have three dollars reward and reasonable charges paid by Thomas Morgan" Thomas Morgan, Jr., for whom his father built the mill and house in Middletown Township, died (about 1764) soon after receiving the property, leaving a wife and children. His mill, house, and about 25 acres were sold to Abner Buckman about the same time by unrecorded deed.
An interpretation of Thomas Morgan, Sr.'s, property holdings at the time of his death in 1775 is illustrated in Figure 1.
The complex of houses, grist mill, associated mill pond, and races at the border `between Newtown and Middletown Townships is documented in a number of historic maps of the area (see Dripps' 1849 Plan of the Township and Borough of Newtown, Scott's 1876 Combination Atlas of Bucks County, and Noll's 1891 Atlas of Bucks County). The original Thomas Morgan House and the Morgan Mill House are standing today as significant historic landmarks. Evidence of the mill pond can be seen as earthen banks about 100 feet to the northeast of the Thomas Morgan House. The fore race leading to the mill is evident along the section of old Silver Lake Road just north of its intersection with Swift Road. The mill foundation is seen in the woods 20 feet from the intersection of the two roads, and the tail race extends from the mill site as it returns to Core Creek.
Thomas Morgan, Sr., directed in his will of 1775 that his property be surveyed. Details of the Morgan land as prepared in a draft by Moses Moon dated March 20, 1784, is shown in the last page of this article. Morgan's will, in addition to providing for his wife to live on the farm until her death, bequeathed 25 acres (the mill property) to his grandson Thomas Morgan, 111, even though it appears certain that he did not have title to this land at that time.
Following the death of Morgan's wife Magdelen in 1784, the farm was sold for 803 pounds to Thomas Bulger. Bulger must have been a person of some recognition along Core Creek at the end of the 18th century. He was married to Magdalen Morgan, daughter of Thomas Morgan, Sr., and lived in the Morgan House at the bend in the road to Morgan's Mill, the old Lower Silver Lakc Road, until 1805. Bulger seems not to have been a prosperous person, and he gradually sold off all the land he purchased from the estate of his father?in?law. He died at the age of 85 in 1812, and by will left his few belongings to Benjamin Butler, son of John Butler, his friend. John Rony of Newtown was executor. It is not known where Bulger lived for the 7 years from the time after he sold his house in 1805 until his death in 1812.
Early in the 19th century the area surrounding the Thomas Morgan House was in a high state of development that included water ways, races, a grist mill, pond, access road and two substantial dwelling houses. At this time it was owned by Joseph Harvey, Miller, and remained in his possession until his death in 1823. Harvey had purchased the Mill and Mill House in 1798, and the Thomas Morgan House in 1805. The property was advertised for sale in 1825:
"Pursuant to the last will and testament of Joseph Harvey, deceased, will be exposed to public sale on the premises on Thursday the 2nd of December next, a handsome farm, containing about 67 acres, pleasantly situated in Newtown and Middletown Townships, Bucks County, adjoining land of Thomas and John Janney, Jeremiah Bunting, John Terry and a public road leading from Attleborough to Dolington passes through the premises. It is handsomely divided into convenient fields, a good proportion of excellent bottom meadow, the remainder arable, in a high state of cultivation, and well watered by Jenks Creek (Core Creek). The improvements consist of two substantial Dwelling I?louses, one of which is stone, two stories high, with a piazza, and stone kitchen adjoining; the other, a frame building, with a cellar kitchen beneath. There are springs of excellent water convenient to the dwellings, with spring houses erected over two of them; a frame barn, hay house, carriage house, and the other necessary out buildings, all in good repair, an apple orchard of well selected fruit in the prime of bearing, and other fruit trees. There is also on the premises, a first rate grist mill, two stories high, built of stone, with two pair of stones, one of which are French burrs of the first quality, and lately put in the mill; three bolting chests, one of which is for superfine flour. The mill is on a constant stream, and is an excellent stand for the business."
Thomas and John Janney purchased the Harvey estate at public sale on September 12, 1825. They together now owned a dramatic piece of real estate extending along Core Creek below the Road to Yardley containing two large grist mills, one saw mill, three substantial houses, other outbuildings, water ways, races and two large mill ponds. In aggregate this must have been one of the most valuable properties in the area containing 257 acres, enhanced in value by Core Creek flowing through its entire length. In 1829 Thomas and John Janney partitioned their farm
Thomas' portion: 117 acres 28 p (this was the northern section) The Janney Homestead, mills, etc. John's portion: 69 ac. 20p. (the southern section) plus the 71 acre Harvey tract (including the Morgan homestead) extending into Middletown Township making total of 140 acres. Thomas Janney by way of the partition received the old Janney homestead and the associated Janney grist and saw mills (today the Crossing Community Church property), whereas John Janney was deeded the valuable mill and houses of Joseph Harvey. By this partition John Janney came to own the Morgan House as well as the rest of the Harvey property. It is likely that the Morgan House had been standing for at least 90 years when acquired by John Janney, and may have been considered "out of style" at that time. It is not certain where the John Janney family lived since they had two houses at their disposal. The Thomas Morgan House standing today probably represents an updated and enlarged version of the original building. The Federal?style paneling and mantels represent an 1820?1830 period of construction, whereas the built?in cornier cupboard in the middle room with raised paneling and cornice dentation represents an earlier period. In addition, the two styles of window openings (curved and straight) also suggest two different construction periods. It is likely that the John Janney family remodeled both the Morgan House and the Mill House. The Morgan House may be a closer representation of the original, with its smaller size and window treatment. It was not until 1913 that the Morgan House was sold out of the Janney family by Matilda, Tamazine and Elizabeth Janney, surviving heirs of John and Thomas Janney. IL is not known when the Morgan Mill was razed.
The Thomas Morgan House (10 Silver Lake Road) is of unusual historic significance. It was a part of the early to mid 18th century settlement of Newtown Township, particularly the early commercial development with its connection to a major grist mill. Although the original house has been altered, these changes occurred early in the 19th century. The room arrangement, stairway placement and interior fabric such as fireplace mantels, built in cupboards, chair rails and base boards enhance the visual and historic value of this unusual structure.